21-Year-Old Donor Recipient Pens Heartfelt Letter To 15-Year-Old Donor's Family
August 5, 2016

A 15-year-old boy passed away unexpectedly, but because he was an organ donor, he was able to give someone another chance at a healthy, pain-free life.

His brother recently shared the touching letter written by the man who's life was saved with the donated tissue.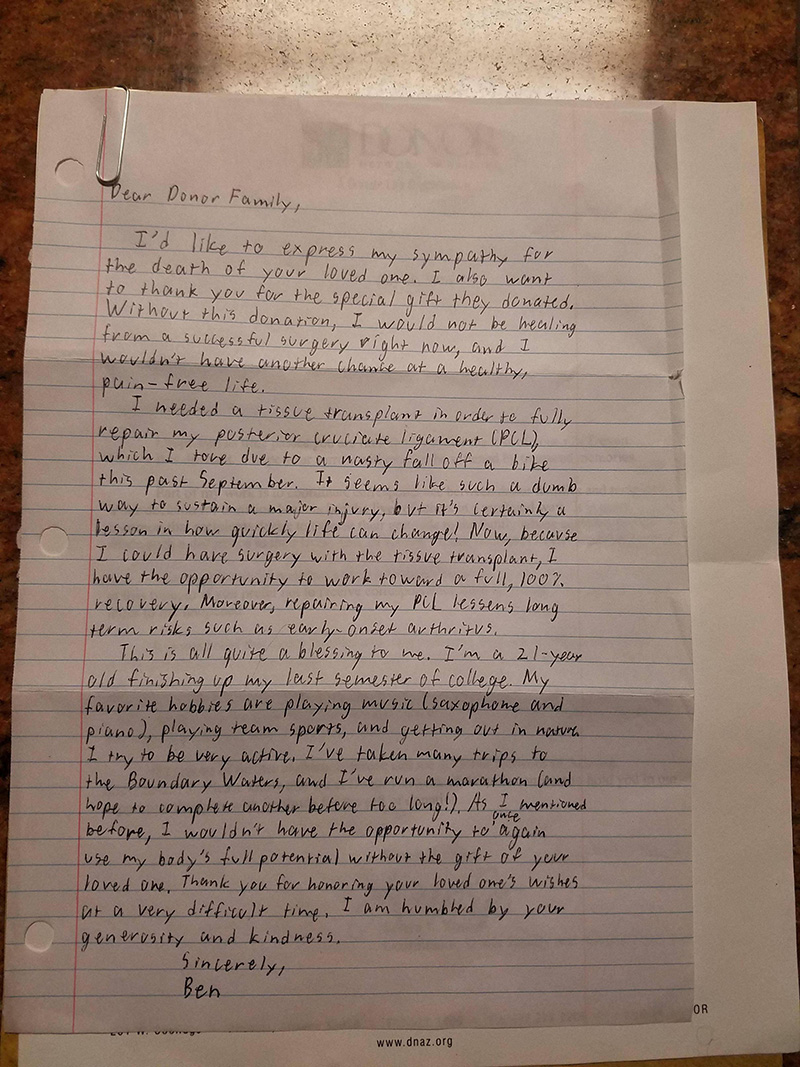 The letter reads:

Dear Donor Family,

I'd like to express my sympathy for the death of your loved one. I also want to thank you for the special gift they donated. Without this donation, I would not be healing from a successful surgery right now, and I wouldn't have another chance at a healthy, pain-free life.

I needed a tissue transplant in order to fully repair my posterior cruciate ligament (PCL), which I tore due to a nasty fall off a bike this past September. It seems like such a dumb way to sustain a makor injury, but it's certainly a lesson in how quickly like can change! Now, because I could have surgery with the tissue transplant, I have the opportunity to work toward a full, 100% recovery. Moreover, repairing my PCL lessens long term risks such as early, onset [arthritis].

This is all quite a blessing to me. I'm a 21-year-old finishing up my last semester of college. My favorite hobbies are playing music (saxophone and piano), playing team sports, and getting out in nature. I try to be very active. I've taken many trips to the Boundary Waters, and I've run a marathon (and hope to complete another before too long!). As I mentioned before, I wouldn't have the opportunity to once again use my body's full potential without the gift of your loved one. Thank you for honoring your loved one's wishes at a very difficult time. I am humbled by your generosity and kindness.

Sincerely,

Ben