If it seems that every day is a "National Something Or Other Absurd Day," it's because it kind of is. There are national days for virtually anything you can think of, so rather than springing them on you last minute and having to buy some truffles on some random Wednesday, we've listed one related to food for each month to keep an eye out for.
January 3 – National Fruitcake Toss Day
Yep, January 3rd seems a good day to get rid of all those gross cakes that no one ever eats.
February 18 – National Drink Wine Day
February 18th is pretty much the middle of winter, so why not raise a glass?
March 23 – National Chip and Dip Day
March 23rd is the day to celebrate putting goop on your chips. If you have to wonder why, you clearly don't appreciate sour cream as much as some folks.
April  7 – National Beer Day
This is one of Homer Simpson's many favorite days. Can't get enough of that wonderful Duff. 
May 5 – National Hoagie Day
For countless people, May 5th is Cinco de Mayo – but for hoagie fans, it's also National Hoagie Day. Go crazy and see if you can eat a hoagie with salsa to combine them.
June (first Friday) – National Doughnut Day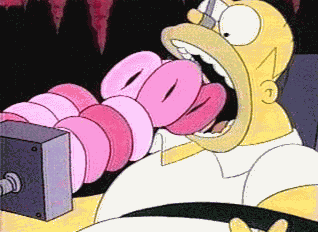 This one actually has a bit of history behind it, as it began in 1938 with the Chicago Salvation Army saluting the work of volunteers who gave doughnuts to soldiers. It's the first Friday of June, or if you're Homer Simpson, pretty much every day of the year.
July  12 – Pecan Pie Day
Pecan Pies actually deserve an entire month if not a decade in our book. 
August 21 – National Spumoni Day
August 21st is the day for eating tri-flavored ice cream, but beware – in Canada, they celebrate this holiday in November. You know, just in case you were in Toronto and wanted to eat some and don't want to seem like a dork or anything.
September 13 – National Peanut Day
September 13th is the day for this legume to get legendary. It's a pretty popular nut, as April 2nd is National Peanut Butter and Jelly Day and March 1st is National Peanut Butter Lovers Day. Nutty!
October 9 – Moldy Cheese Day
It's not often that one would want to celebrate moldy cheese, but fear not there's of course a day for this as well. 
November 28 – French Toast Day
We might not always appreciate the French, but it takes a real curmudgeon not to like French toast. 
December 8 – National Brownie Day
Once again, we have Homer to teach us the real meaning of Christmas — woops, the real meaning of food. 
While you're at it, you might as well remember that Mother's Day is the second Sunday in May. Because if you forget that one, you are a total bonehead.