After Trump Supporter Collapses, Protesters Provide Care
April 20, 2017

It is possible to hold opposing views and still love one another.

President Donald Trump, who made his first visit to Wisconsin since becoming president, spoke at Snap-on Headquarters in Kenosha. The streets were packed with anti-Trump activists and steadfast supporters.

When a Trump support collapsed, three health care professionals rushed over to provide care.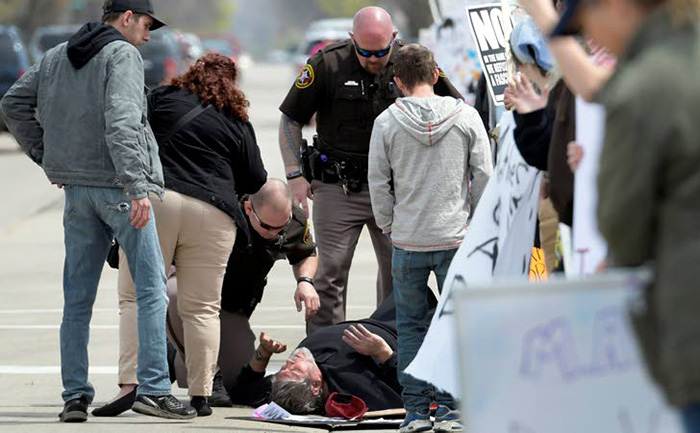 Photo credit: Brian Passino / Kenosha News

"Somebody said, 'Hey, Pat. Somebody's on the ground over there.' I took off running," said Pat Ventura, a retired nurse.

Ventura briefed the man's wife on his condition and waited with him until emergency crews arrived to transport him to a local hospital. When he was taken away, Ventura rejoined a group of anti-Trump protesters.

Ana Draa also assisted the man.

"I wanted to keep him calm while they got him professional help," said Draa, a former CPR instructor.

"We're on polar opposite sides of the political fence. I go to Planned Parenthood luncheons and his sign was all about defunding Planned Parenthood," Draa said. "At the end of the day, he's God's child. He's somebody's daddy, somebody's husband, somebody's father."