Brothers Use Website To 'Borrow' Puppy That Helps Grandma With Alzheimer's
March 9, 2017

Brothers Richard and Martin Dawson look after their grandmother who was diagnosed with Alzheimer's five years ago.

"Nan, 95, would get very upset whenever she experienced pain or confusion. But the brothers noticed she became lovingly distracted by their baby nephew, who would visit from London each month with their brother James," Today.com writes. "Since their nephew couldn't be around all the time, the siblings thought a dog might have a similar positive impact on their grandmother."

But the brothers currently working full time jobs while caring for their Nan 24/7 couldn't wrap their heads around taking on a puppy, too.

That's when Richard discovered a website called BorrowMyDoggy.com, which connects people looking for a bit of puppy affection with local dog owners and their pets.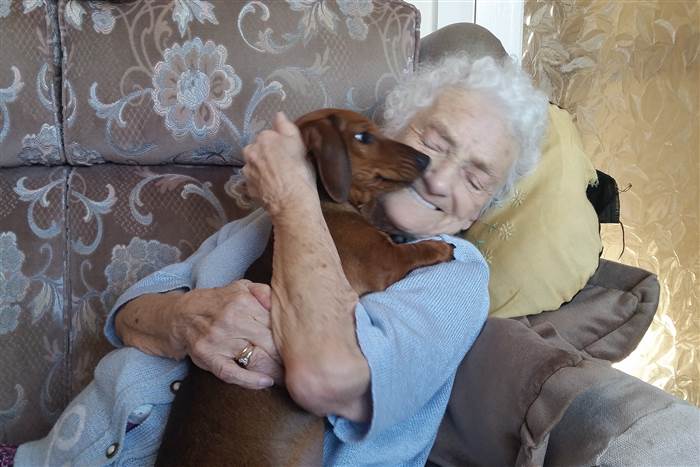 Photo credit: Richard Dawson

Richard connected with a woman named Ann and her dog Orla, a 9-month-old dachshund puppy.

Nan and Orla immediately hit it off.

Orla visits with Nan twice a week. But after seeing the affect it has on their grandmother, the brothers plan on setting up more play dates.

Photo credit: Richard Dawson

After Richard posted photos of Nan and Orla on Twitter, he has been receiving messages from people who are excited to try the service for their elderly relatives, as well as folks who are interested in putting their dogs on the website in the hopes that they, too, can be of assistance to someone.