When one thinks of big delicious cakes, things like birthdays or anniversaries come to mind. Plus of course, the age old wedding cake, symbolizing the sweet bond between partners. With over half of marriages ending in divorce, it was inevitable that divorce cakes would become a popular item as well.
Here are 10 from a male point of view that might be sweet and creamy but that sure aren't old fashioned or romantic.
1. Gore Galore
Quentin Tarantino would certainly approve of this graphically violent cake.
2. Ball And Chain
You served hard time, so welcome to your early parole.
3. Double Your Freedom Fun
You get a bonus cake here along with the bonus of losing that lousy spouse.
4. Morbid Mocha
This one definitely takes the cake for deathly imagery.This one could also serve as a regular wedding cake for those drawn to goth imagery. 
5. Simple But Sweet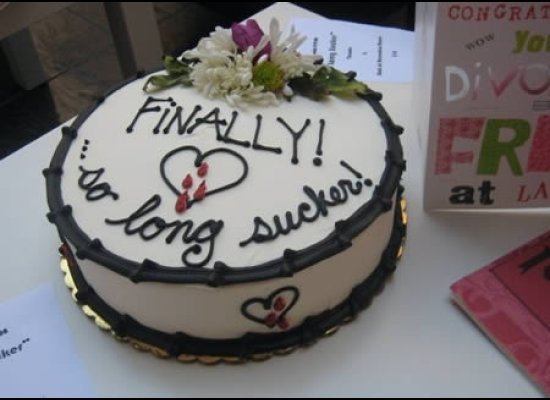 You don't have to get too elaborate to get a good message on your cake.
6. Hit The Road
We're partial to that small smile on his face. She must have been serious trouble.
7. Halloween's Over
She's melting! Melting!!!!!!
8. Getting Rid Of The Trash
This one gets the Oscar the Grouch seal of approval.
9. Sizzle and Stake
This one is a thing of serious artistry. Whatever it tastes like, our compliments to the chef.
10. Potty Parting
Ok, definitely the least appetizing of the bunch but the message comes through loud and clear and stinky.
We hope that you'll never need to buy one of these cakes, as we are romantics at heart, but it's good to know that some final vindication is out there along with some tasty treats. 
Follow Break on twitter @Break