Father Rewards Hard-Working Son With Cubs Tickets, Video Instantly Goes Viral
April 23, 2017

Kolt Kyler couldn't hold back the tears when his father surprised him with tickets to see his favorite baseball team play at Wrigley field.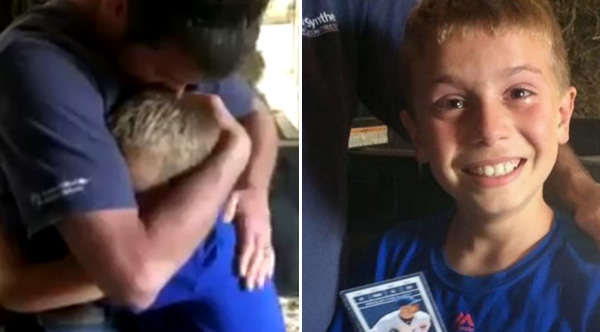 "Kolt has been helping his dad on their farm for a couple years with their cows, but recently Kolt got two pigs to show for 4H [a youth development and mentoring organization] for the first time so he's had to work extra hard!," Kolt's older sister, Hannah Himes wrote to ABC News in an email. "He also made the travel baseball team again this year so he's been busy with regular season, travel team, farm chores, cub scouts, and he is also an honor roll student!"

In a video posted by Hannah on Twitter, Kolt's dad can be seen testing his son's work ethic that day "and he never once complained," she said.

"It will be his first time watching the Cubs in person and his first time to Wrigley," said Himes. "We're all so excited for him. It'll be a good father-son day."

After the video went viral, the Cubs' Kris Bryant tweeted his excitement for Kolt to come to the game.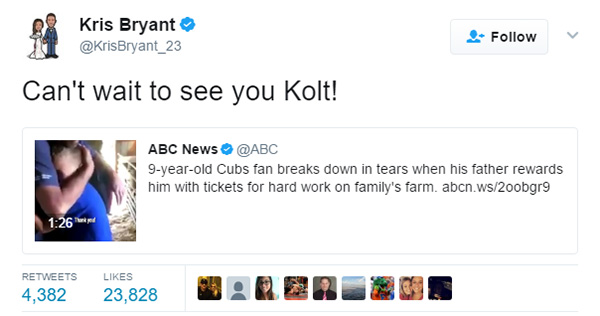 Watch the video below.

Surprised with @Cubs tickets for working hard at school, on the farm, and on the baseball field ⚾️ He may or may not be their biggest fan! pic.twitter.com/EVsufB5cSF


— Hannah Himes (@HannahHimes) April 16, 2017