Foreign Workers In Singapore Rescue A Toddler Dangling From The Balcony
May 14, 2017

A two-year-old girl woke up from a nap, walked through two doors to the balcony, and nearly fell from the second story apartment in Singapore.

Two foreign workers from India heard the toddler crying for help and immediately came to her rescue.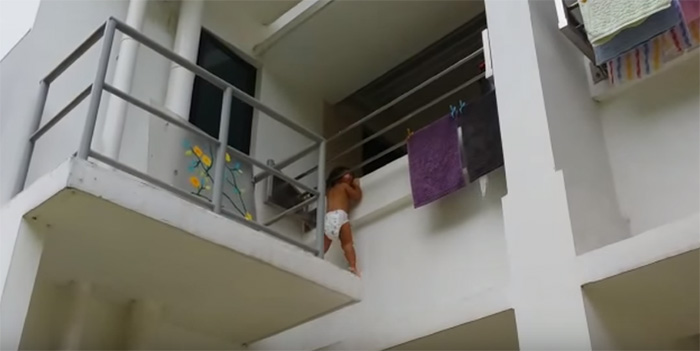 The girl's mother, Noreen Saniri, had left Auni asleep alone in a bedroom when she took her five-year-old daughter to a nearby kindergarten.

In the 15 minutes that Saniri was away, Auni, who will turn three in August, woke up. She then made her way through two doors to the balcony, carrying an iPad.

She is believed to have climbed up a table, dropped the device and slipped off the balcony reaching for it. Fortunately, her head got stuck, which saved her from falling.

The rescue was captured on video, in two parts:

The second video shows the foreign worker climbing up to the balcony to save the child.

The second worker, who was not captured on video, then climbed up the pipe to help his friend. Together they gently wiggled her body to ease her head from the drying rack. After a few minutes, they succeeded in freeing her.

The pair then handed Auni to SCDF officers who brought her down using a ladder.

They had to go back to work after that so Auni's parents did not have a chance to thank them – until yesterday afternoon when The New Paper arranged for the heroes to visit the family.

"Now I know we'll be friends for life," Auni's father said. "I will never forget what they did."