He Could Play Anywhere, But He Chooses To Play Next To The Homeless. This Is Why…
August 24, 2016

About two years ago, Chris Leamy was walking out of the subway carrying his guitar when a homeless woman pointed at it, remarking "This would be easier if I had one of those."

Leamy said that the woman explained that it's easier to make money if you can play an instrument, so he began to play next to the homeless ever since.

Photo credit: Chris Leamy

Leamy's hashtag #HePlaysForMe helps raise money for the homeless community as he plays: if he makes $20 for one homeless person, that person gets to keep all of the money while Leamy matches it by paying $20 to the Bowery Mission Homeless Shelter and asking his social media followers to do the same.

The street musician has raised more than $6,000 for New York City's homeless since last year.

More recently, Leamy set up a fundraising page for a homeless man he met named Miguel Correa. The goal was to raise $500 to get Miguel off the streets and back on his feet.

Not only did the donations help Miguel land a job at Dairy Queen and a place to live, it also bought 1,257 meals for the homeless community.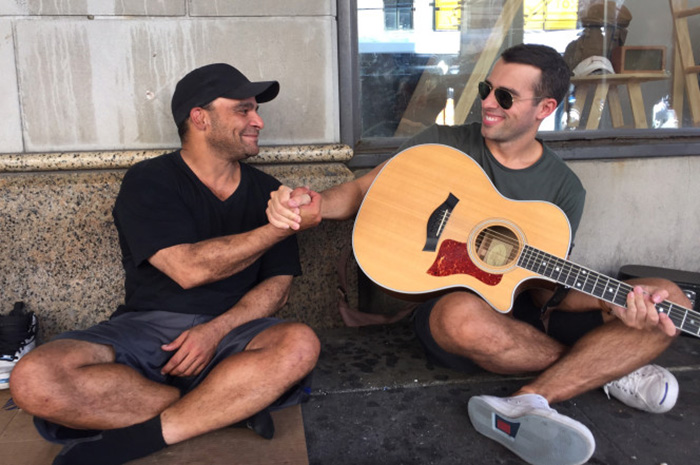 Chris Leamy with Miguel Correa

Leamy was changing the lives of the homeless, but he never imagined his actions would change his life, too.

Last week, Leamy signed a record deal with Sony.

"Sony reached out and I signed a distribution deal for [my] new EP shortly thereafter," Leamy told Page Six. "The goal of this has always been to humanize the homeless population. Never in a million years did I think it would lead to a deal."