Heroes Rescue Woman Trapped In Submerged Car In Dramatic Video. 30 More Seconds And She Would Not Have Lived
August 14, 2016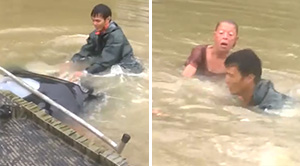 A Baton Rouge woman and her dog were rescued just before her car was completely submerged in flood waters on Saturday. The dramatic footage shows a man jumping in to pull her from the vehicle.

Four men in a boat pulled up to a red convertible that was almost completely submerged on Tiger Bend Road.

When one of the men realized there was someone inside the vehicle, he yelled for them to get out. The woman responded saying she couldn't.

One of the men, David Phung, initially tried to break a back window but when it wouldn't break, he was able to pry open the roof of the convertible.

Phung jumped in the water and began pulling on the roof as the car went under completely.

While underwater, the woman was able to fit through the roof of her car and was pulled out by Phung.

"My dog! My dog! Get my dog!" the woman yelled immediately.

One of the men on the boat threw out a life jacket to the two.

The woman ducked underwater looking for her pet before resurfacing. Meanwhile, Phung was reaching underwater for the dog but couldn't find it and said he thought the dog was gone.

"No, she better not be." the woman said trying to keep afloat.

Moments later, Phung pulled a small white dog out of the water. "I got your dog!" he told the woman. "Swim to the boat."

The animal was alive and alert. All three are expected to be okay.