How Robins Prove Loved Ones Are Still With Us After Death
April 20, 2017

In the spiritual community, it is believed that robins are a sign that your deceased loved one is still with you. After seeing this video of a grieving mother visiting her son's grave, you'll be convinced, too.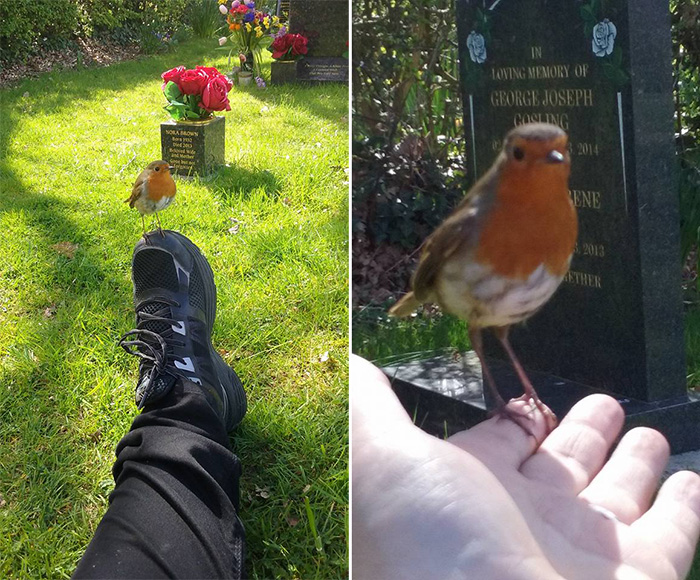 Marie Robinson / Facebook

Marie Robinson from Waterlooville, Hampshire, lost her four-year-old son Jack to cancer in 2014. She visited Jack's grave a few weeks ago, and asked him to "show Mummy a sign".

Moments later a robin hopped on to her shoe, then landed on her hand.

Robinson posted a video of the robin perched on her son's gravestone as she sobbed, asking: "Are you looking after him?" and said she took it as a sign Jack was still with her.

Marie's video has over 230,000 likes on Facebook. Thousands of Facebook users have shared their messages of support and many have even shared their own "robin" stories.

Stacey Woodhouse said: "The day after my Mum's funeral, my husband and I decided to still go on a weekend camping trip that had been arranged before her passing.

"A robin flew around us, landing in our picnic table. She then proceeded to hop into our awning and through into our camper van.

"She stayed there looking at us for a good few minutes while I chatted with her.

"I felt an immense sense of calm. My mum loved joining us for camping trips, even it was only for a few hours and a cuppa."

Sylvia Rafter said: "My Mam passed in June. I was driving home to get clothes when my neighbour was driving towards me.

"We both stopped and I broke down telling her about Mam. She put her hand over her mouth and pointed and there, on my car mirror, was perched a robin… even with the engine running."

Sharon Sandford said: "I have always believed robins to be a sign that a loved one is near. Never failed to see one at the cemetery when visiting my brother's resting place.

"My mum died last November and we buried her ashes next to my brother on what would have been his birthday.

"The biggest robin appeared and actually went into the grave. He then hopped over to my Dad and then me. I feel so happy whenever I see one."

Susan Lennon said: "I lost my father and brother in 11 weeks. The spring after my father died, a robin appeared in my garden I was sat in tears about my dad and brother because of it.

"The robin landed on my bird table just looking at me. Just two weeks later I had cancer removed from my womb and the robin appeared the next day too."