Hundreds Join A Man And His Beloved Dog For A Final Walk Along The Beach
November 12, 2016

The world has come together to say a final goodbye to one "very special" dog.

Mark Woods encouraged people on social media under #walkwithwalnut to join them on their last walk together at Porth Beach in Cornwall, Walnut's favorite beach.

Hundreds of people showed up.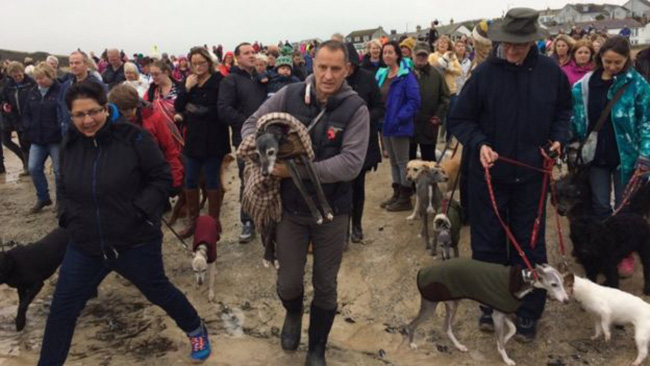 Walnut the whippet, who was 18 years old, has now been put down because of his ill health.

Woods said the reaction from people around the world who had heard about Walnut on had been "incredible".

He wrote on Facebook:

"Walnut passed away this morning at 11.56am. The family and our three whippets, Monty, Nelson and Charlie were also in the room.

"He went very quickly and in my arms. I am writing this post because I owe it to everyone who has supported myself, my family and most importantly Walnut.

"Thank you to the hundreds of people that attended the walk this morning and to all those that had their own walks with their beloved pets at 9.30am all around the world.

"I also want to thank the wonderful people of Newquay for their support which I will never forget as long as I live. God bless you all."

Watch the touching video here: