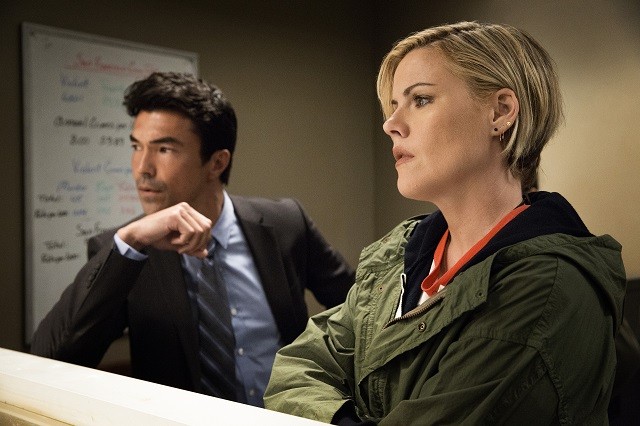 TNT's Murder in the First opens the book on a new case Sunday, June 26 and that's going to mean more stress for Lt. Jim Koto. Koto's job is to oversee SFPD's toughest team of Inspectors but in Season 3 he'll be showing that he's more than the boss sitting behind the desk.
Starpulse spoke to Ian Anthony Dale (pictured above left with co-star Kathleen Robertson) this week to discuss how Koto has developed thus far and what audiences can expect when the series returns next weekend.
Season 2 wasn't great for Koto – his biggest plot twist was taking a bullet. But Ian knew that his character would be back this year. "I went out to a concert with the co-creator of the show, Eric Lodal, prior to the season and he was giving me little teasers about what to expect in the season premiere," he said.
"He informed me that I would be shot, but reassured me that I would not be getting killed. So when that first script came out I had the assurance, at least one verbal assurance. It turned out all good and Koto's healed up for season three and back and better than ever."
Of course that just means he's back to deal with more headaches caused by Terry English (Taye Diggs), Hildy Mulligan (Robertson) and his entire team of talented but often unpredictable crime-solvers.
Speaking of the dynamic between the squad, Ian explained: "There's always going to be contention between the boss and the employees, especially with the dynamic on our show [with] Koto being somewhat younger than every one of the Inspectors at the precinct.
"For them to have to take orders from this young ambitious guy doesn't always sit well with them, and so there's always going to be some conflict that arrives from that. That continues on through Season 3," he continued.
"But under that all, despite butting heads at times and there being conflict, there's a bond and brotherhood and sisterhood that happens with Koto and his team that continues to grow simultaneous to any conflict that's occurring.
"Like any show that is lucky to make it to a third season, the characters on screen and off have a opportunity to bond and I think you get to see that in Season 3 with the core group of Inspectors."
Not to say that they're going to go any easier on Koto, but Ian is well used to playing those moments when his character needs an Advil – not just because of his team but because of the unique serial structure of Murder in the First.