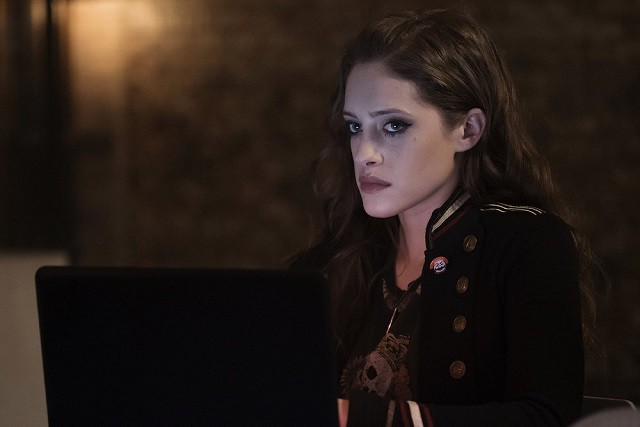 When Mr. Robot returns for Season 2 on July 13, that will mean more turmoil for Darlene and Angela – as if they haven't had enough. Actresses Carly Chaikin (pictured above) and Portia Doubleday sat down with Starpulse at New York Comic Con to discuss the girl power of Mr. Robot.
The two of them had different experiences in the show's first season. "For me, going into Season 1 was very exciting and nerve-wracking," Carly told us, "because in the pilot I only have a few lines, so I really didn't have any text to go off of what was going to happen to my character or have that great of a grasp on her just from the pilot.
"Obviously I met with [series creator] Sam [Esmail] and talked a lot about what was going to happen," she continued, "but I think after doing Season 1 you get to know your character in a story and everything so well. Season 1 is sort of like a discovery period and so going into Season 2, I feel like it's a lot easier because I feel more confident in who I am as Darlene. [But] there's still the surprise because we don't know what's going to happen."
"I knew what my arc was going to be before I started shooting; I just didn't know what it was going to look like," said Portia. "I guess that's the fun of doing a TV show, because I've never been on a show like this where I've had such a drastic change and with Sam, you actually don't know what's going to happen. I was just asking him, now what? It can go in any direction."
"I'm just excited with the things that I've found and the relationships. I'm excited to see where it goes. Especially our relationship," Carly added. "I didn't know that we would have that kind of connection with each other before we shot it. I was just like this is cool, they get to have a moment, but our personal relationship shined through."
Mr. Robot is a departure for both actresses. Carly is best known for playing the "mean girl" Dalia on ABC's comedy Suburgatory, and Portia's only other TV role was as Matthew Perry's assistant in the short-lived Mr. Sunshine. Needless to say it's been a big change.
"Comedy comes very easily to me," Carly said. "Before that I did drama, but it was very interesting and fun to go back into the drama world and explore and I think it's always nerve-wracking.
"Like the scene I did with Rami [Malek], where he tries to kiss me, I was on the phone with him so long before [saying] 'I don't think I can do it and bring justice to how it should be' and all these things. Sometimes it's scary because you want the result to be reflective of the story and the writing.
"So I think the biggest thing I've learned and continued to learn is being able to trust myself and trust the people around me. With Rami, when we do all that stuff, he's like look me in the eyes. We're always in this together, and I think [it's about] trusting myself and having the cast we have I can trust them."
"I have never played someone in the corporate setting and so that was difficult for me," Portia continued. "The best thing about this process is Sam is so lenient and really collaborative. If I feel something's not working or I don't understand this scene or what is this monologue, he'll actually talk it out and go this works and this works, this doesn't work, let's try this, and that was so extremely helpful not feeling like you have a weight on your shoulders, that you have to do it all by yourself."
Heading into Season 2 they're looking forward to learn even more about the world of Mr. Robot. "There's a lot for me," Carly said. "A lot about how fsociety was started, but for me the most interesting thing that I found out – from when we were doing one of our scenes that I had a misconception about – was when [Angela] said 'You guys were never really that close,' about my character and Elliot's character.
"That is the biggest thing I'm interested in finding out, is my relationship with him before all this and what it was like growing up," she concluded, "and what it was like before we started the society together."
Mr. Robot returns July 13 on USA.