It Was A Routine Shoplifting Bust, Then The Officer Realized What They Were Stealing
July 2, 2016

A Redmond, Washington, police officer used his own cash to pay for diapers, clothing and shoes for a couple who was caught shoplifting at Target. And he didn't do it for recognition.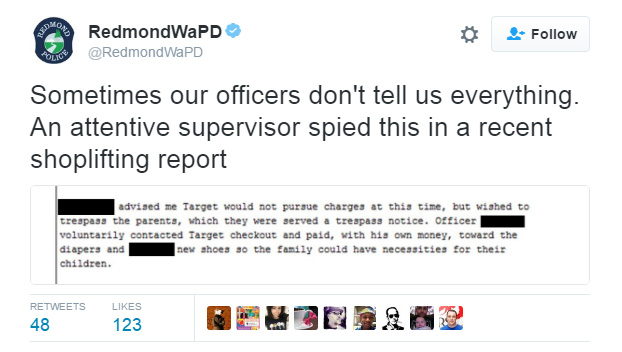 Twitter

The couple, with their two children, 8 years old and 4 months, attempted to walk out of the store without paying, according to the police report.


Redmond PD

Redmond Police Department's spokeswoman Becky Range said that officers often deal with shoplifters who are trying to support a drug habit or reselling clothes for profit. In this case, the officer addressed the situation and quietly walked to the cashier to pay for the items. Before he left, he directed the couple to local family resources.

The officer declined to be identified.