Little Girl Uses Google Translate To Ask A New Student To Sit With Her At Lunch
November 4, 2016

Two elementary school students in California have proven that friendship can go beyond any language barrier.

Amanda Moore does not speak Spanish but she didn't let that stop her from reaching out to a new classmate at Paloma Elementary who doesn't speak English.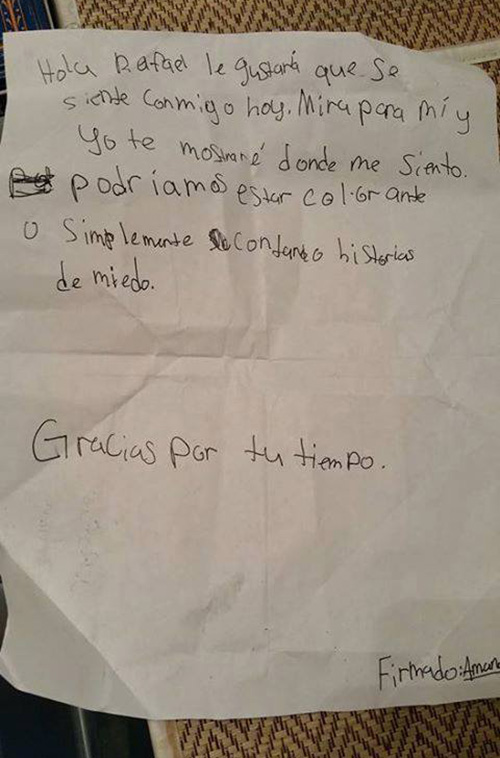 Facebook

The 10-year-old girl noticed her new classmate seemed to be lonely and sitting by himself. When she spoke to him, she noticed he didn't speak much English. That's when she decided she'd simply communicate with a note instead. Amanda used Google Translate to write a letter in Spanish to Rafael and asked her mom, Kimber Kinard, to proofread it.

Kimber shared a video of Amanda reading the letter out loud on Facebook:

The letter read:

"Would you like to sit with me today? Look for me and I will show you where I sit. We can color or simply tell scary stories. Thank you for your time, signed Amanda."

"I just wanted to tell him it's okay if he could sit over by us," Amanda said. "Even though we can't really speak Spanish together, I don't really know Spanish, but we could still hang out."

Kimber got emotional after learning about her daughter's spontaneous act of kindness. Though cameras weren't allowed in the classroom, Amanda's mother related what happened in school Wednesday:

"She walked over and gave it to him, and he stared at Amanda and then he opened it up and was trying to read it. When he finished reading it, his eyes were welling up with tears and then Amanda's eyes were welling up with tears.

"And then the whole class stood up and applauded. He stood up and he hugged her."

Kimber added that since her daughter gave him the note, the two have become friends. On Halloween, she shared a photo on Facebook of the two trick-or-treating together. Rafael even told the local news that he and Amanda would be "friends forever."