The ageless uber-star was performing in Australia last weekend and totes melted down.
She is on the Austrailian leg of her Rebel Heart Tour and is also in the middle of a nasty custody battle with ex-husband Guy Ritchie over their son Rocco.
For those of you that need a refresher, Guy Ritchie is the director of such classics as Lock, Stock and Two Smoking Barrels, Snatch and the Robert Downey Jr. Sherlock Holmes franchise.
So a meltdown was in the making. And it was epic. Madonna fell off a tricycle on stage, then told the audience that she 'messed up' on some of her songs.
Am I the only one questioning why there was a tricycle on stage to begin with?
Oh, and then she simply begged for someone to f**k her and pounded some booze from a flask that some fan offered from the crowd. It was reportedly tequila. Y'know, the real LIGHT stuff.
"Somebody take care of me, please. Who is going to take care of me?" she told the audience. "If I have learned one thing in my life, it's just to go with it. If you just laugh it doesn't hurt as much."
Rocco is now 15. And Madonna projected his childhood pictures behind her during the concert. You know, like a crazy mom would do.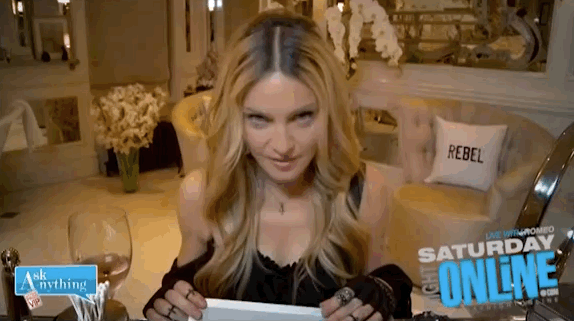 So courts are deciding how much time Rocco will spend in the UK with Guy Ritchie and in New York City with Madonna. She's apparently hoping to get him at least one weekend a month.
That'd be a lot of frequent flyer miles…
Also, it's reported that Guy Ritchie wants more money after Madonna paid him $72 million and gave him a mansion she owned in Wiltshire. Oh, and he's asking for legal fees.
And give her son away, too.
But it doesn't end there. The Material Girl showed up two hours late to her concert in Brisbane, Austrailia, just a couple of days later and told fans they should have spent more time "doing your hair and make-up." Because then she wouldn't have been late. Because that makes sense…
Big shock that this lady ended up being a trainwreck…
But who deosn't love a good trainwreck?
Source: MSN