Math Professor Encourages Moms To Show Up To Class With Their Babies
November 1, 2016

Being a parent is already a daunting task, which can make having a job and/or attending college very difficult. That's why thousands of people are sharing the photo Sarah Thompson posted to her Facebook page of her Math professor teaching class while holding Thompson's baby.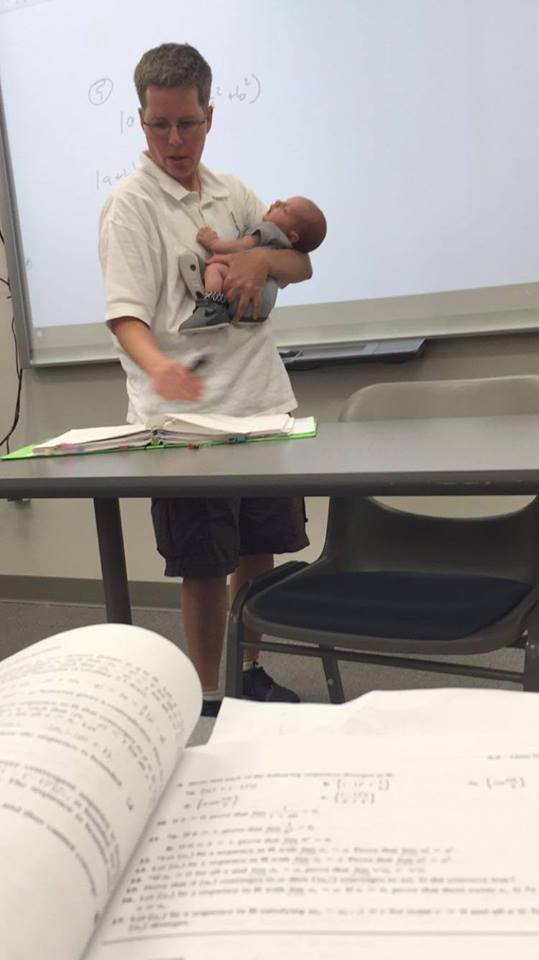 Photo by Sarah Thompson

Thompson hopes that by sharing her experience it might encourage other moms to ask for help when they need it.

Sarah wrote:

"This is my Math professor Dr. Josie Ryan with my son; she's amazing. She knows I worked and continued school at USC while pregnant this past semester. I started her class the week before I had my son in August and started attending her class again the week after I had him. She knew I'd be overwhelmed so literally begged me to bring Isaiah to class and even showed me where the breastfeeding room in the health center was at Lander University. It's so reassuring to know there are professors out there like this. Not only is she an amazing person, she's also one of the best math professors I've ever had. She's brilliant really, wacky and the best kind of nerdy.. the kind I can relate to lol. But hey! Maybe the world needs more of these teachers! Hopefully this post will encourage other educators or moms or pregnant/working women who are students to ask for help. She's encouraged me constantly and I've brought him to our Real Analysis class multiple times now. He'll cut the cheese and make the class giggle from time to time but we still get down to some serious math in there. I am in a perfect world when I am learning math in college with my baby right next to me or in my teachers arms. She taught like this; holding him the whole first class I brought him to."