Off Duty Cop And Hotel Manager Save 2-Year-Old Found Face Down In Pool
August 18, 2017

An off duty police officer on vacation and a hotel manager are being called heroes for saving a 2-year-old boy from drowning.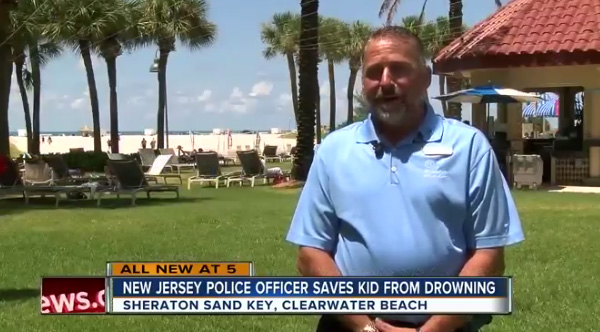 Vince Tropea / Credit: abcactionnews.com

Vince Tropea, the manager at Sheraton Sand Key Hotel in Clearwater Beach, Florida, received a phone call that a child was face down in the hotel's pool. He rushed to the pool to find a 2-year-old boy lifeless on the pool deck.

New Jersey police officer Sean O'Hare had already started CPR when Tropea rushed in and took over. Tropea had just gotten re-certified for CPR last month.

Sergeant Sean O'Hare / Credit: abcactionnews.com

Tropea, who has a 5-year-old son, performed compression after compression for 3 long minutes until he heard the sweetest sound: a gasp.

"That's probably what I was thinking about was my own child," Tropea told the local news outlet.

ABC news reports that the the child's mother said her son is "already out of the hospital and back to being his happy self."

As for the heroes, Tropea and Sgt. O'Hare, both say they were simply doing what's right.

"Being a resort manager for as many years as I have, we see lots of things. I'd never seen something quite like that. I'm just so glad we were all there and ready to help," Tropea added.

"That's the reason you take the job," O'Hare explained, "To help people."