Paramedic Puts On Outbreak Gear To Rescue A Skunk With A Cup Stuck On Its Head
August 8, 2016

A paramedic in Canada's Peel Region suited up in protective gear this weekend — not for an outbreak situation — but for a rescue mission to save a frightened skunk with a cup stuck on its head.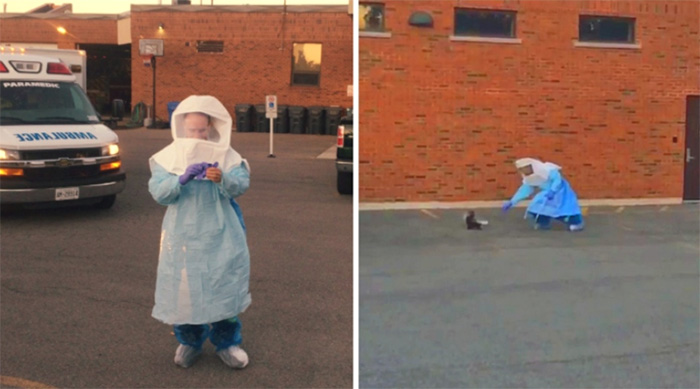 Justin Mausz was pulling into the station Sunday morning when he spotted the animal in the back parking lot with a cup on its head and the dome lid caught around its neck. The skunk was walking in circles and bumping into the wall.

Mausz posted video of what he saw on Twitter.

An earlier video of our "Patient", the poor thing was bumping into walls when we found it. @Peel_Paramedics pic.twitter.com/gKWc7tDuyX


— Justin Mausz (@Prof_Dewey) August 7, 2016

So, he leaped into action. But to keep the skunk spray and smell off his clothes, he donned protective gear used in situations involving infectious diseases, such as Ebola.

"They've got to spend the rest of the day in that," Jeff Walsh, superintendent of Peel Regional Paramedic Services, said of the officer's uniforms.

Treading carefully, Mausz managed to get the cup off of the skunk successfully.

Our 'Rescue' this morning: a skunk with a cup stuck on its head @Peel_Paramedics help all sorts of "Patients" pic.twitter.com/HMd8zuwx9Q


— Justin Mausz (@Prof_Dewey) August 7, 2016

(h/t) CBC