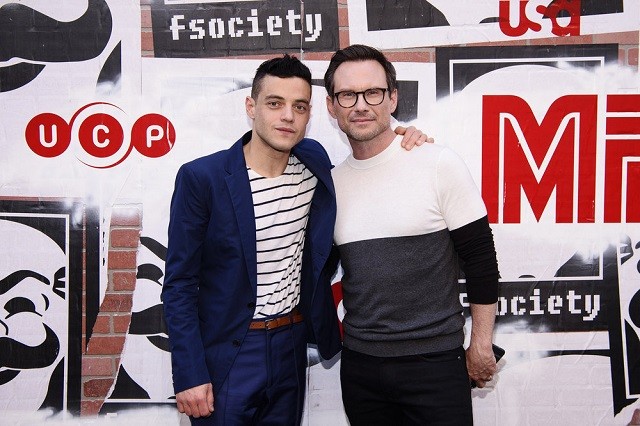 Was there a more buzzed-about show last season than USA's Mr. Robot? Or two actors more praised than Rami Malek and Christian Slater? The duo are back for Season 2 and took time out of their production schedule to sit down with Starpulse at New York Comic Con and chat about their whirlwind year.
For the duo who portray Elliot Alderson and the title character respectively, the success of the series has meant a lot of frequent flier miles. "I think it was the first television show to premiere at the Tribeca Film Festival so that was exciting," Christian recalled. "We just went to Zurich and Cologne and London."
"It's been unique, it's been unusual," he continued. "I think we're proud and happy that people are responding in the way that they are and it is a unique experience altogether. The show is dealing with a lot of current and relevant issues so that's nice."
"Just finding out how many people are finding out about this show," Rami added, "it just keeps growing and growing. Carlton Cuse, who is here promoting Colony, was telling me that by the time you come to Season 2, you'll be so fascinated by how many new fans you have. People can find it anywhere now."
When the second season premieres on July 13 it's expected to be another deep dive into the dark corners of our society, and Christian explained what it was like to step into the series.
"[Creator] Sam Esmail had a unique take on this particular world," he said, "which was to do it as authentically as possible. In other situations where people try to tackle the world of cybersecurity it's all about zooming down the cable into the computer and a lot of CGI special effects. This was handled in a much more realistic, authentic way that hadn't really been tackled before.
"So learning a lot of the terminology was challenging and a little disconcerting. The first scene [Rami] and I had together was on a Ferris wheel together and that was like the first day of shooting. We spent the day for eight hours together in this Ferris wheel getting to know each other.
"I of course wanted to show up and be as prepared as possible. I had to learn a lot of terminology and I came in for rehearsal about three days prior. Really ready and as up to date as I could possibly be," he added, "and then two hours before we went in to go shoot this scene a lot of the terms I had already learned were outdated. It's a world that's always evolving and always changing, so that's really one of the challenges."
If you've seen the entire first season you're aware of the major plot twist that happens in Episode 8, and Rami explained that both he and Christian were aware of that fact from the beginning.
"We both knew from the start," he revealed. "Sam asked us how much we wanted to know and I think we both said we'd like to know everything. So he told us."
Christian told us that being part of Mr. Robot has changed the way he looks at the real world. "I think as a result of doing this show, it certainly raised my level of awareness as to that culture and people out there, looking into different hacking organizations like Anonymous.
"Seeing the type of rebellious things that they're doing and just kind of asking myself am I a fan of this sort of culture," he concluded, "I like the moments where things are exposed [about] human beings are being taken advantage of. For the most part it feels like that's what's going on and so at this point I would say I'm a fan."
Mr. Robot returns July 13 on USA.