Read The Letter An Inmate Sent From Prison To A Fallen Officer
March 5, 2016

A letter from a state inmate serving time for drug charges gives an example of the impact good police officers have on the world, even the convicts.

MBN Agent Lee Tartt was killed in a standoff in Tishomingo County, Mississippi, that also left three other MHP SWAT team members in the hospital.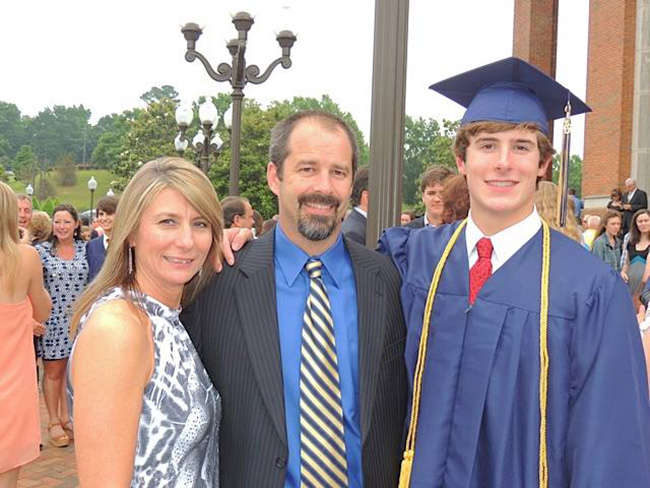 Lee Tartt (center) via Facebook

Mississippians came out of the woodwork to mourn Tartt, most with stories of his kindness and service, the Clarion Ledger reports.

The Clarion-Ledger also received an unexpected letter from Teddy McRaney, a Grenada County state inmate.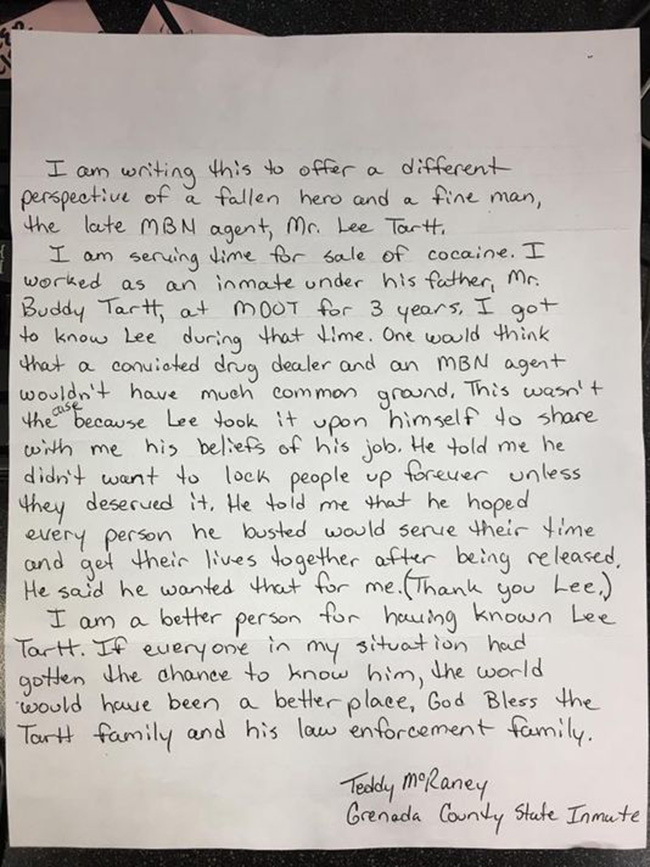 Therese Apel/ The Clarion-Ledger

The letter reads:

"I am writing this to offer a different perspective of a fallen hero and a fine man, the late MBN agent, Mr. Lee Tartt.

I am serving time for sale of cocaine. I worked as an inmate under his father, Mr. Buddy Tartt, at MDOT for 3 years. I got to know Lee during that time. One would think that a convicted drug dealer and an MBN agent wouldn't have much common ground. This wasn't the case because Lee took it upon himself to share with me his beliefs of his job. He told me he didn't want to lock people up forever unless they deserved it. He told me that he hoped every person he busted would serve their time and get their lives together after being released. He said he wanted that for me. (Thank you Lee.)

I am a better person for having known Lee Tartt. If everyone in my situation had gotten the chance to know him, the world would have been a better place. God Bless the Tartt family and his law enforcement family.

Teddy McRaney

Grenada County State Inmate."

With all the negative press about cops in the news, we'd like to remind everyone that there are cops doing great things, even for the "bad" guys.