Teacher Raises $80,000 To Surprise Every Student At Her School With A New Bike
April 1, 2017

Meet Katie Blomquist, a teacher at Pepperhill Elementary in North Charleston, South Carolina.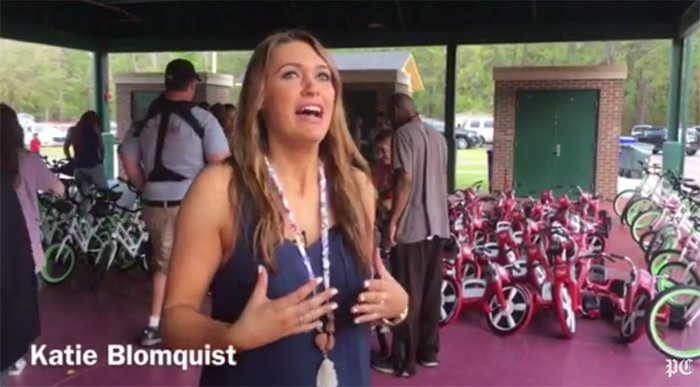 After a quiet conversation with a student, she learned that many of her students didn't have bicycles because their families could not afford to buy one.

Blomquist decided she was going to make sure every student at her school had a bicycle to call their own.

"It's the basic childhood right – it's joy. Every single child deserves that, and a bike is one of the top things that represents that," she said.

Blomquist launched an online fundraising campaign and raised more than $80,000 to buy 650 bicycles.

It took all of three months.

Among those who made donations — people with only a few dollars to their names, people living in other countries, major corporations and star comedian and talk show host Steve Harvey.

Volunteers helped assemble the bikes for the big surprise.

"Don't know very many cities where communities of strangers take off work and assemble bikes for kids they don't know, for a teacher they've never heard of for a school they've never heard of," Katie said.

Blomquist surprised the kids Thursday morning by unveiling bikes in the school parking lot.

Watch the video here: