Tebow Leaves On-Deck Circle To Greet Boy With Autism, Then Hits Home Run
August 10, 2017

Tim Tebow and 9-year-old Seth Bosch met for the first time on July 29 at Charlotte Sports Park, where Tebow's St. Lucie Mets were playing against the Charlotte Stone Crabs.

The brief encounter turned into something special and all of it was captured on video by Seth's mother, Ileanna.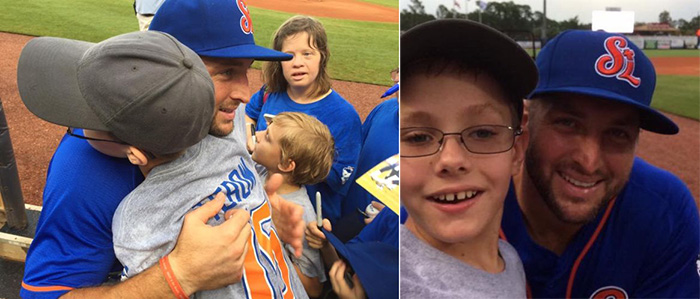 Tebow with Seth / Credit: Ileanna Bosch

Tebow was on-deck taking practice swings when Seth, who has autism and hasneurofibromatosis, a genetic disorder that produces tumors on the nerve tissue, took his shot to try and get his favorite ballplayer's attention.

Seth began waving at Tebow and, to the child's surprise, the star walked over and shook his hand through the netting. Seth went back to his seat next to his parents with tears of joy streaming down his face.

Tebow then went up to the plate and hit a three-run homer.

"When Seth came back to his seat, he was crying," Ileanna told the Tampa Bay Times. "And then Tim hit the homer. I started crying, too. How does that happen? I think God brought Seth and Tim together."

After the game, Tebow and Seth met again where Ileanna took photos of the two together.

Watch the video below.