Teen Who Walked 5 Hours To Work Now Drives, Thanks To Police
February 27, 2017

A California teen used to walk nearly five hours to and from work every day, but thanks to the kindness of local police officers and support from their community, he can now drive the distance.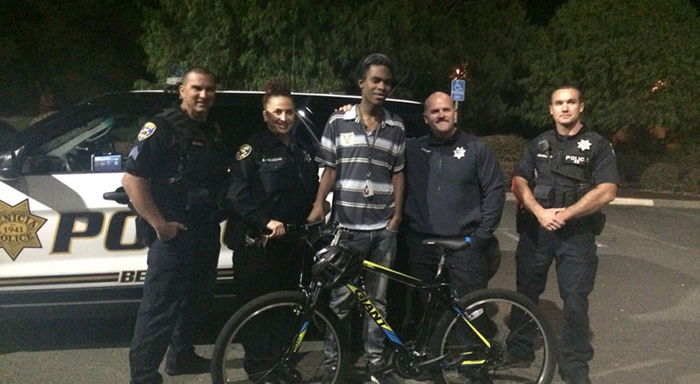 Through a successful GoFundMe campaign, the Benicia Police Department raised more than $40,000 for Jourdan Duncan. The 18-year-old used the money to buy a Volkswagen Passat to get to his job as a packaging line worker.

He's also taking classes, and studying to become a California Highway Patrol Officer.

"They're setting an example of what a good community is," Duncan said. "I thought maybe that could be me — maybe I can have a change in our society and change in the community."

It's no wonder Duncan looks up to law enforcement — it was the Benicia Police Department's kindness that changed his life in September.

Duncan recalls walking home late one night when he said he saw the flashing lights of a police car come up behind him.

"I said, 'Uh-oh, I hope I didn't do anything,'" Duncan told Inside Edition.

Corporal Kirk Keffer, with the Benicia Police Department, pulled up behind him, and waved him over.

"It's dark; there's no sidewalks," Keffer said. "I asked him where he was walking to, and he says, 'Home.'"

So, Keffer offered Duncan a ride.

Along the way, Duncan mentioned his car had broken down, and he had no other way to get to and from his job than to walk nearly five hours both ways.

"I had to start saving up little by little," Duncan said, explaining that his paychecks went toward helping out his parents, paying tuition for college, and saving up for a new car. "It's a pretty peaceful walk. I just put in my headphones, play my music."

Keffer said he was impressed, and sympathetic to his cause.

"People use [a long commute] as an obstacle not to work," Keffer said. "I wanted to make sure that he understood a good work ethic and dedication like that is going to be noticed and rewarded."

Keffer went back to his department after dropping the teen off, and asked his superiors if there was anything they could do for him.

They eventually gathered some extra money from their department's account, and surprised Duncan with a brand new bicycle.

"He helped make my life easier," Duncan said, adding that his commute time was reduced to only 50 minutes in one direction. "They care about their community, they care about their people and they care to help us."

Inspired by what good a little money could do, the police department then started a GoFundMe page for Duncan that turned his life upside down just months later.

"Every chance we get to help somebody out we try to do it," Keffer said.