The First Woman To Enter The Boston Marathon Finishes The Race Again, 50 Years Later
April 18, 2017

In 1967 a 20-year-old student at Syracuse University became the first woman to officially participate in the Boston Marathon.

50 years later, Kathrine Switzer crossed the finish line of the Boston Marathon wearing the same bib number.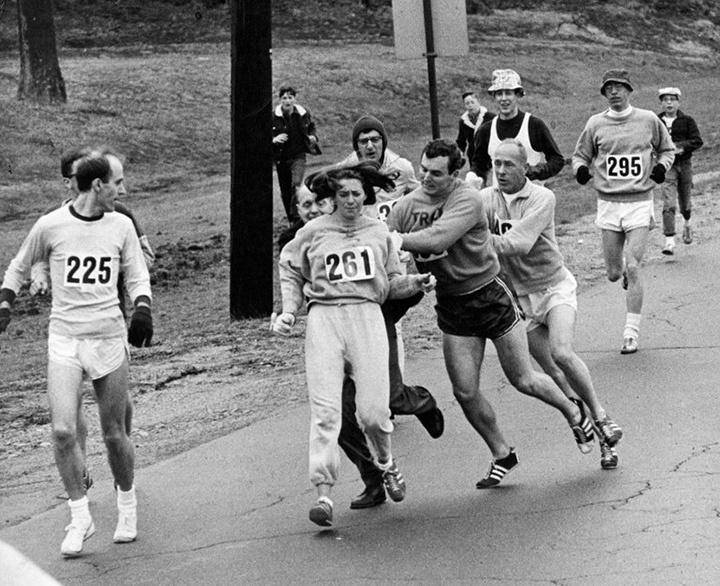 Photo credit: Paul Connell / Getty Images

Switzer's marathon in 1967 became historic because she was the first woman to complete the all-male race as an official participant. She registered as "K.V. Switzer" to hide her gender.

A few miles into the race, an official tried to remove Switzer from the race and rip off her bib.

"Instinctively I jerked my head around quickly and looked square into the most vicious face I'd ever seen. A big man, a huge man, with bared teeth was set to pounce, and before I could react he grabbed my shoulder and flung me back, screaming, 'Get the hell out of my race and give me those numbers!'" she wrote in her memoir.

Switzer finished the race in four hours and 20 minutes, but would later be disqualified and expelled from the Amateur Athletic Union.

Plenty has changed in running since 1967, thanks to Switzer's efforts. Since 1972, women are welcome in the Boston Marathon and other major races.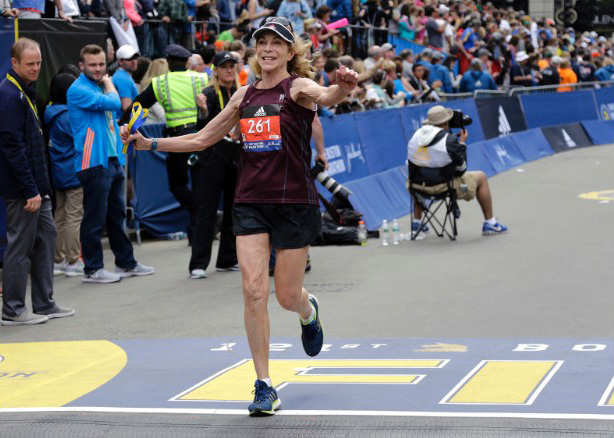 Photo credit: Elise Amendola / Associated Press

On Monday, the 70-year-old finished the Boston Marathon only a little slower, in 4:44:31.

Her bib number was retired after the race — just the second number that the marathon has retired. Before her start, she was given the honor of firing the gun for the women's elite runners.

"In 1967, few would have believed that marathon running would someday attract millions of women, become a glamour event in the Olympics and on the streets of major cities, help transform views of women's physical ability and help redefine their economic roles in traditional cultures," Switzer wrote.

"We've come a light year but we still have a long way to go."