This Is The Only Material Gift An Elderly Woman Wanted After Winning The Lottery
August 11, 2016

95-year-old Ursula McCafferty had only one material gift in mind after winning $30,000 in the lottery: a new cell phone.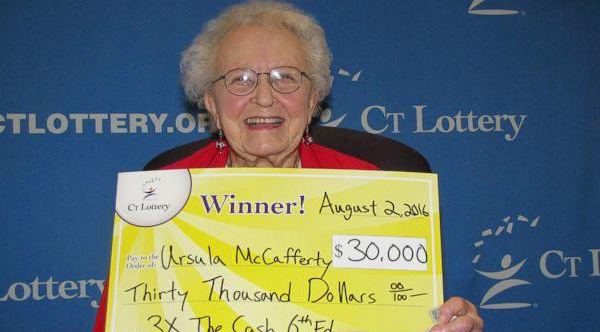 Courtesy: Connecticut Lottery

"I had a little one and it didn't do anything," McCafferty told ABC News. "I don't want to be one of these people that has my thumb stuck on my phone all the time but I want to be able to look up the weather and be able to send a photo."

The smartphone is the only splurge McCafferty made for her herself from the lottery prize. She is giving some of her winnings to her children and putting the rest in a trust.

"I've never been able to do what I like what to do, so I decided that my children are going to get $2,000 each," she said. "And my daughter who lives here is going to get $3,000."

She added: "She takes me to my doctor appointments so she was well worth an extra thousand, and her siblings will agree."

McCafferty, a retired postwoman, said her children have already sent her more than two dozen roses to say thank you.

"I must have done something right," she said.