This Single Mom's Tax Return Message Goes Viral For All The Right Reasons
February 23, 2017

A South Carolina mom shared a photo on Wednesday of a receipt for $5,400 she spent on rent for the remainder of 2017. She never expected what would happen next.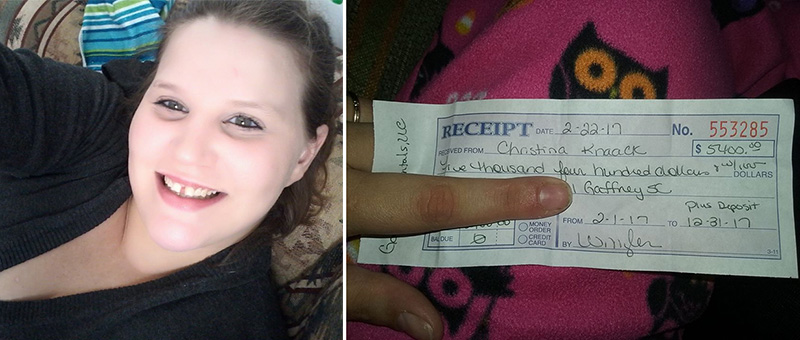 Christina Knaack / Facebook

Christina Knaack said when she got her tax return this year, she decided to put all the money toward putting a roof over her family's head rather than spending it on the hottest trend.

"I got back $5600 on my taxes. Instead of buying my kids the latest Jordans or fancy electronics I paid my rent for the YEAR. I'm a single mom and I do it all buy myself on a minimum wage job. I kno that a roof over my kids head is what's important. My kids don't want for anything because my priorities are straight. And this also means I will have that extra 450 a month to do things with my kids."

Within 24 hours, Knaack's post has already received more than 90,000 shares.

The single mother is raising a 4-month-old and 2-year-old on a minimum-wage job. She is also a recovering addict celebrating three years clean.

Knaack said most of the reactions have been positive, but she's also received hateful comments.

"So I just woke up to some of the most hateful comments and some very inspiring comments and people I don't even know defending me," she wrote in a Facebook update. "I never expected to go viral. And as of January 3rd I celebrated 3 years clean. I didn't share this for attention from the world. I just shared my accomplishments with people I kno. I made it public so if anyone shared it others could see it in hopes a recovering addict would see it and see that life off the streets is possible and for any single moms to kno it is possible to survive on ur own. As long as my post has inspired people I'm happy with that."