Zoo Calls In Regular Doctors To Perform Emergency Surgery On Pregnant Gorilla
June 8, 2017

After 24 hours of labor, Kira the gorilla had not progressed and was beginning to tire and show signs she was feeling worse.

The Philadelphia Zoo had to act fast if they were going to save Kira and her baby. So they brought in a team of veterinarians and regular doctors to perform an emergency delivery using procedures and equipment similar to those used in human deliveries — and it worked.

The 17-year-old Western lowland gorilla successfully delivered a healthy five pound baby boy.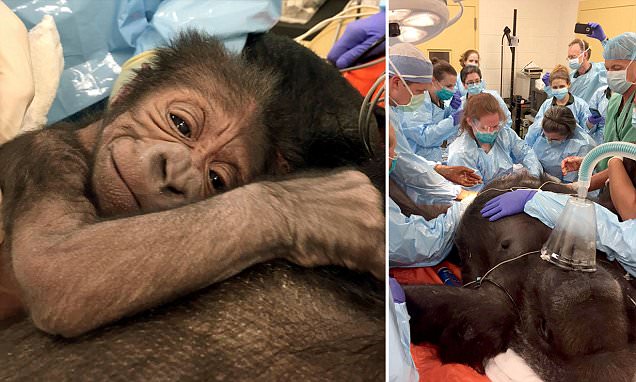 Zoo keepers cared for the newborn for about 24 hours until Kira, who was placed under anesthesia for the delivery, recovered. She has been cradling and nursing him ever since, the zoo reported.

"Though Kira is a first-time mom, we're not surprised she's acting like an expert already. She was a great older sister to younger siblings and has been very attentive while our other female gorilla Honi has raised baby Amani," Dr. Andy Baker, Philadelphia Zoo's Chief Operating Officer, said. "Everybody is excited about these two future playmates."

Philadelphia Zoo welcomed a new addition – an adorable baby gorilla born to Kira and Motuba! https://t.co/zst8KsfV9Q pic.twitter.com/nPoWqM9MGs


— Philadelphia Zoo (@phillyzoo) June 6, 2017