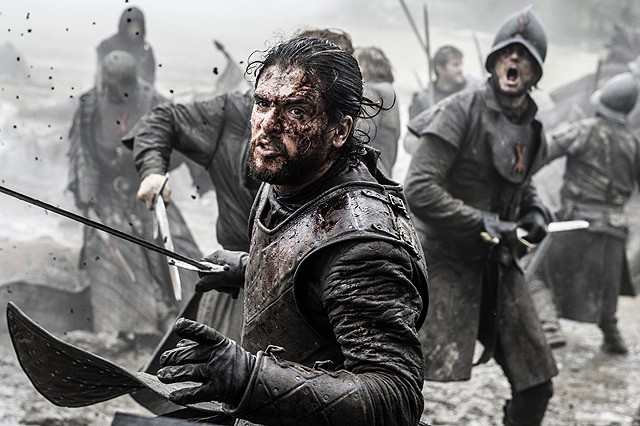 Sunday night's episode of Game of Thrones featured the show's biggest battle yet, and a new video was just released to show how the producers handled filming it.
The penultimate season six episode, "Battle of the Bastards", was directed by Miguel Sapochnik, who also directed season five's "Hardhome", which featured another epic battle, although a lot of it was done with computer generated effects (CGI) due to the mass amounts of white walkers.
A new 10-minute documentary video called "Game of Thrones Season 6: Anatomy of A Scene: The Battle of Winterfell" was uploaded to YouTube on Sunday and the video chronicles what it took to pull off the scene.
Check out the behind-the-scenes video below:
According to Entertainment Weekly, the scene took 25 days to shoot and featured four camera crews, 600 extras and 160 tons of gravel to give the horses a decent footing in the production's rain-soaked Northern Ireland field, which was too muddy for the horses. Speaking of horses, it took 80 to film the scene (EW says 70).
Horse mistress Camilla Naprous explains in the video that the same 80 were used while filming each army on its side of the battlefield, and then they were split in half for the actual battle scenes.
The scene took a bit of CGI to pull off, but most of it was real. Think that wall of horses headed right for Jon Snow (Kit Harington) was done on a desktop? Nope, those are real horses running full speed across that battlefield.
Most of the effects included the flying swarms of arrows and replicating the extras to make the armies look bigger, but the majority of the battle was all live action.
Check out more photos from the epic penultimate episode of season six below (spoilers!)