Stranger Helps Amputee Up The Stairs, Then Returns The Next Day And Builds Him A Ramp
April 7, 2017

After spending days in the hospital, Jennifer Austin was happy to be heading home after her husband Don underwent a partial leg amputation.

However, as they reached the entrance door, Don realized he had not yet regained the strength or balance he needed to get up their front steps. Feeling defeated, Don sat down on the front steps – and Jennifer wasn't strong enough to help him back up.

A stranger driving by saw them struggling and circled back around. A man named Steve pulled up and asked if he could help, then lifted Don up and helped him into the house. Calling him an "angel," Jennifer was stunned by his random act of kindness.

But Steve's work wasn't done yet.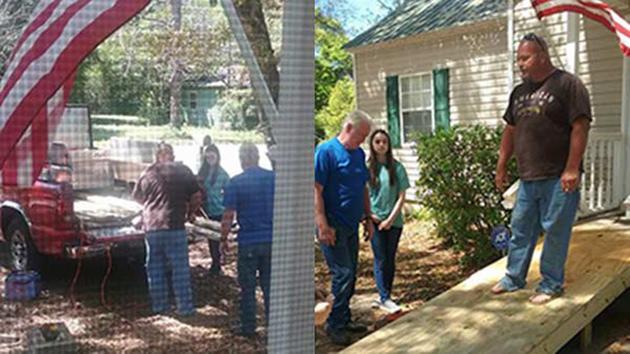 Jennifer Austin/Facebook

As it turns out, he was a welder, too. He returned to their house the next day – with some extra hands – and built a wheelchair ramp to the Austin's front door.

"Brought Don, his mom, his nurse and myself to tears," Jennifer wrote on Facebook. "We just couldn't believe it. Wow. To be on the receiving end of such kindness is so humbling."

Steven Smith/Facebook